🔱Cyclades Legendary Edition authors had a clear goal in mind when re-designing the game and its board.
They wanted to emphasize on bringing :
an "infinite" number of board configuration,
a simplified game setup compared to Cyclades first edition,
an aesthetic specific to this new edition.
The intent was to offer players a new game experience taking place on a "maxi-tile".
This board was to be composed of many smaller tiles in regards to the number of players.
The first concern of the authors was to come up with a tile shape that would be original could be assembled over & over again.
They felt like using square or hex tiles wouldn't help 🔱 Cyclades Legendary Edition getting its own identity.
Indeed, these shapes has been used many times in various board games.
1 – To make new out of old, they decided to start from a square shaped tile, and to twist and bend it "a little".
2 – They started by modifying one of the square' side with an orthogonal design.
3 – This angular line was then inverted to replaced an second side from the square.
4 & 5 – This process was to be repeated on the 2 left sides with a variation.
In order to prevent confusion while assembling the tiles together, the line for these 2 other sides is not angular but curved.
That way, player's setup will be eased with these 2 designs :
〰️a curved & 📐an angular side.
By adding Sea & Land zones on these tiles, the board now appears way more organic and natural.
That would not have been the case by using hexes or squares.
🏝️This design perfectly fits the spreading of the greek islands throughout the mediterranean sea.
🌊Notice how the foam of the waves and the coastal cliffs follow the lines of the tiles to perfection.
More articles about Cyclades Legendary Edition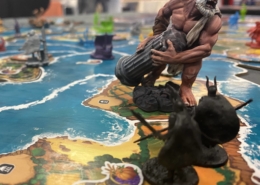 https://open-sesame.games/wp-content/uploads/2023/06/Cyclades-Legendary-Edition-FIJ2023-1-1-scaled.jpeg
2560
2560
admin9816
http://open-sesame.games/wp-content/uploads/2020/03/OSG_LOGO_DEF_Black_large-300x104.png
admin9816
2023-02-23 16:20:00
2023-06-15 10:37:08
Prototype pictures + Bruno Cathala's blog article
Follow Cyclades Legendary Edition